Main content starts here, tab to start navigating
Meet The Crew
February 2020 LobStar:
Meet Adrian Velasquez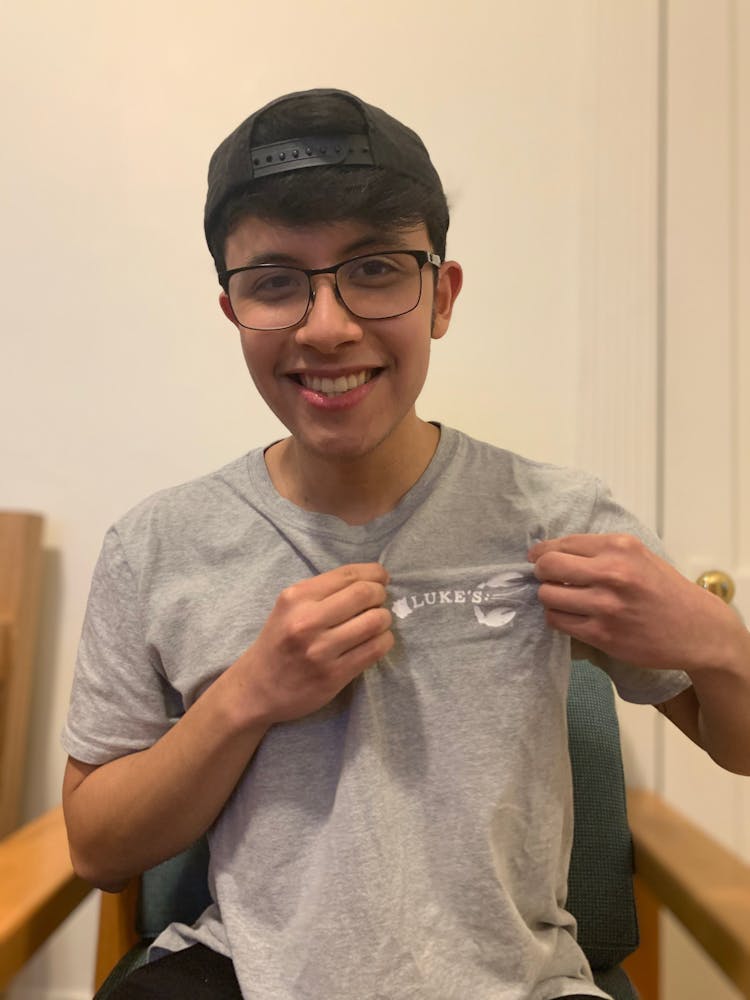 Adrian Velasquez joined Luke's just last June in our Downtown Crossing shack. A born and bred Bostonian, he's in his third year at Northeastern as an undergrad, and balancing crushing lobster rolls with a 40-hour per week internship in finance learning data analysis. No big deal.

With Luke's as his first restaurant gig, Adrian was a clear choice as this month's LobStar, not only for his A+ work ethic but for the awesome attitude he brings to every shift.

Adrian hopes to one day continue working in finance, ideally remotely so that he can travel the world. Until then, you'll find him lifting weights, meditating, and listening to music (when he's not serving up Boston's favorite lobster roll of course). Thanks for choosing Luke's Adrian!
January 2020 LobStar:
Meet Kin Lau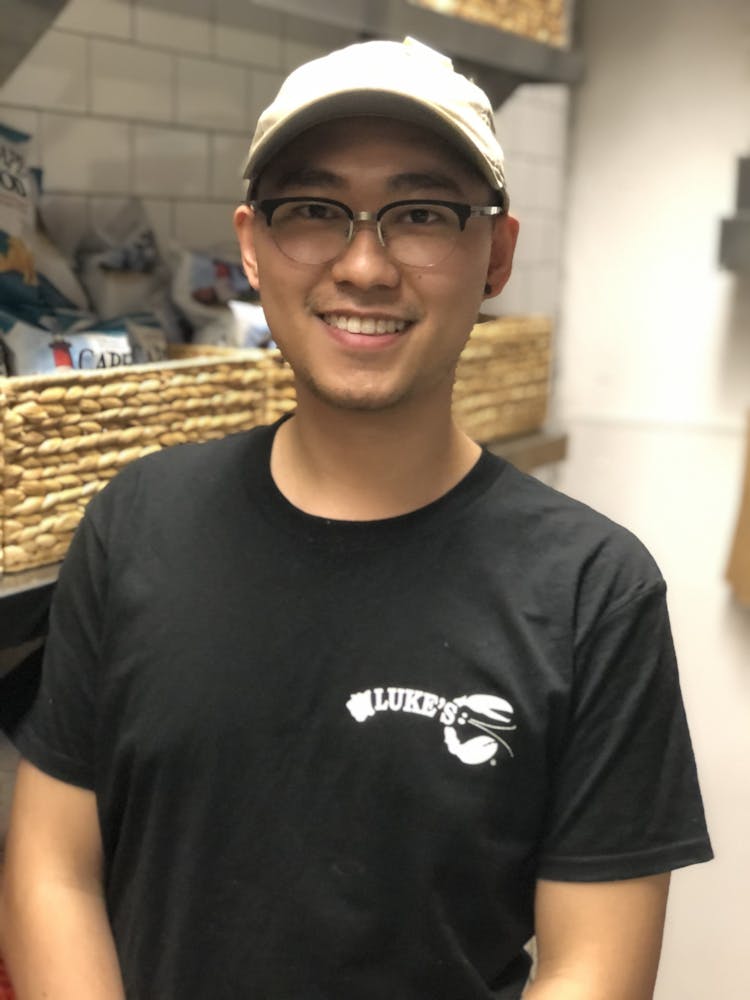 Kin Lau, a shiftleader in our FiDi shack, joined the Luke's fam in spring 2017. Kin joined Luke's straight after graduating from City College as a psych major and a theater minor, but his real passion lies in food. After growing up in NYC's Chinatown, Kin's father owned his own Chinese restaurant in Sunset Park, igniting his love for all things culinary.

When he's not at work making lobster rolls, Kin is cooking daily, whether it's stews in the winter or stir-frys in his Astoria apartment. With the goal of being a chef, he finds himself in Flushing trying all different kinds of food, like his favorite fried prawns with candied walnuts.

After two and a half years in FiDi, Kin finds comfort in the structure of Luke's -- not to mention the serious storage of his home shack which is the envy of many of our other shacks, but he says it's the guests that he loves coming into work to see. "A lot of our regulars have come in weekly or sometimes more since I've been here, and it's nice to know they're coming in for the lobster but also for the company." Congrats Kin for being our first LobStar of 2020! 🌟
December 2019 LobStar:
Meet Joao Paco
Joao Paco has been working in the sanitation department at Luke's Seafood Company for just under a year, but he's already made a serious impression on everyone he's worked with.

Hailing from the Democratic Republic of Congo, Joao arrived in Maine in December of 2018 after his wife's encouragement and her own love for Maine. When some friends suggested he apply to Luke's, he took their word for it and joined the team last January.

His tasks include thoroughly sanitizing every single surface and piece of equipment after processing, but according to Joao, it's the people he works with that keep him coming back. And according to his manager Peter, "Joao is the perfect role model for Food Safety Engineer, leaving no task unfinished and spreading his positive attitude and pleasant disposition to all team members." He's also newly a father of two, welcoming his second child, a baby girl, this month. Congrats Joao and thank you for being our December LobStar! 🌟🌟🌟
November 2019 LobStar:
Meet Alex Daley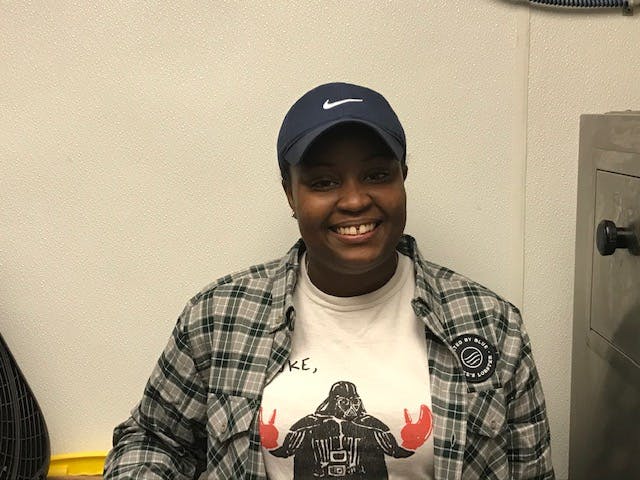 Alex Daley has been crushing rolls and designing chalkboards at Luke's in DC for almost five years now. Originally from Brooklyn, she started working in our Penn Quarter location during undergrad at Howard University. 📚

Despite currently working a full time job for the Department of Education, applying for her Masters in speech pathology, and working on her calligraphy (check out @daley.lettering ✍️), Alex still manages to be a leader in her shack, an unsung hero working the grill daily.

Even with her jam packed schedule, Alex manages to come into work with a smile every day, and says she's stayed at Luke's because of the team and the guests. "It's the first job I've had that I was excited to come into work for." We feel the same way — Alex really demonstrates what a true LobStar is.⭐️
October 2019 LobStar:
Meet Sopheak Lay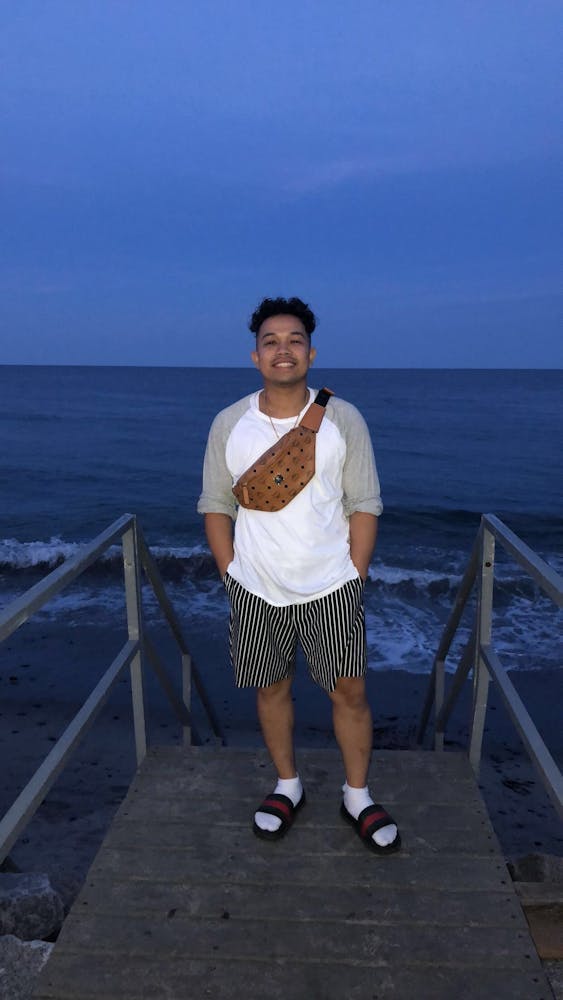 Working at a lobster processing plant is in Sopheak Lay's blood. He started at Luke's Seafood Company in Saco, ME in 2012 working part time as a high school student in our RTE room (or ready-to-eat, where the lobster goes right after it's perfectly steamed in order to be cooled, picked, and packed).

Originally from Cambodia, Sopheak moved to Maine about 13 years ago, and started at Luke's as a picker after his parents suggestion — they too work in the RTE room and have been pickers for Luke's since we opened as well as for Luke's dad Jeff's lobster processing plant even before that.

After a few years in RTE, Sopheak eventually became full-time during college, where he's getting his degree in theoretical math. He's since shifted to our logistics department where he gets to use his own analytical skills, which he hopes to put to good use down the road in his career. In his spare time, you'll find him studying for school of course. Congrats to our October #LobStar! ⭐️
September 2019 LobStar:
Meet Heather Krieger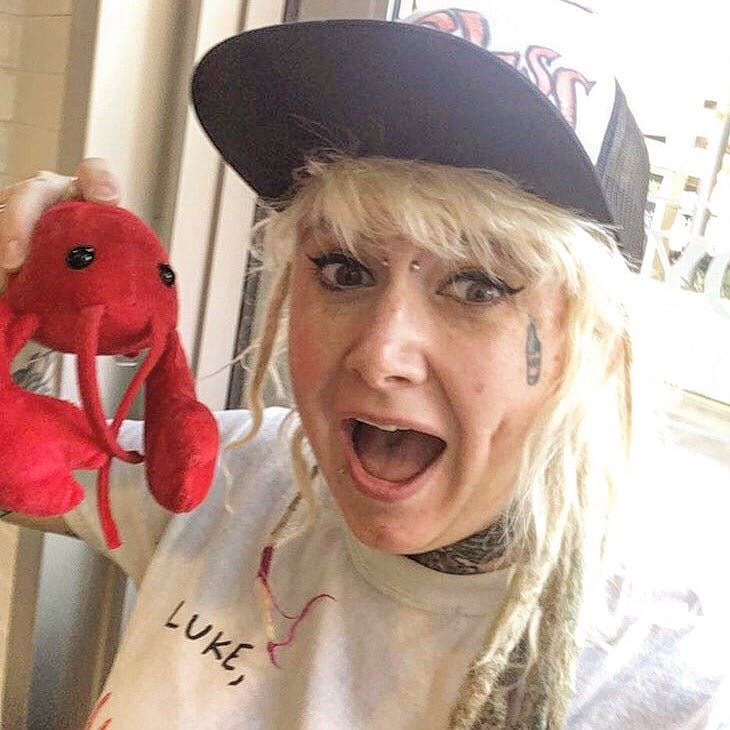 When Heather Krieger started at our Las Vegas shack in 2017, she had just come off of a bartending gig so she was no stranger to hospitality. After quickly moving up from being a teammate to a shift leader, Heather shined in her role, and her energy and commitment to customer service in the shack made her a no-brainer for our September LobStar. ⭐️

Heather's 15-year-old son, affectionately nicknamed Gumby is a regular face at the shack too, consistently ordering our Lobster Grilled Cheese, as a growing boy should. Fun fact: Heather and her son are Disney fanatics, with annual passes for Disneyworld AND Disneyland, and big plans to visit Tokyo Disney. We'll be sure to let our Japan locations know to throw on the Lobster Grilled Cheese when they're coming. Thanks Heather for choosing Luke's!
August 2019 LobStar:
Meet Carlos Ayala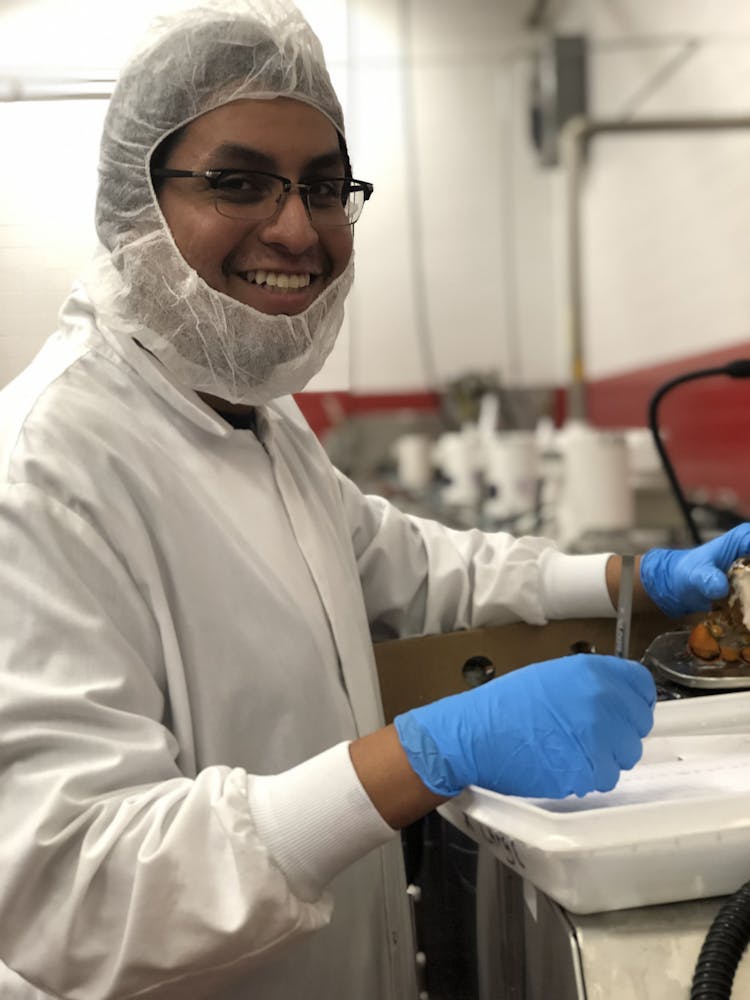 Carlos Ayala joined our team in 2013 while looking for a job during his time off from school at USM. His first task was in our raw tail room, grading lobster tails by size before they're shipped to our partners, but he was always peeking over his boss Freddy's shoulder, interested in the documentation of it all.

After a few years going back and forth between getting his biology degree and working at our Seafood Company up in Saco, ME, Carlos was recently promoted to assistant supervisor. He's responsible for ensuring that our tail grades are accurate and we're shipping 4-5 oz tails, while looking sharp doing it.

His next goal is med school, where he hopes to study pediatrics — he's got plenty of practice with 9 nephews and nieces. After a long day at the plant and a 5:30 am start, you'll probably find him watching movies like the self-described cinephile he is. #LobStar
July 2019 LobStar:
Meet Imalia Gansop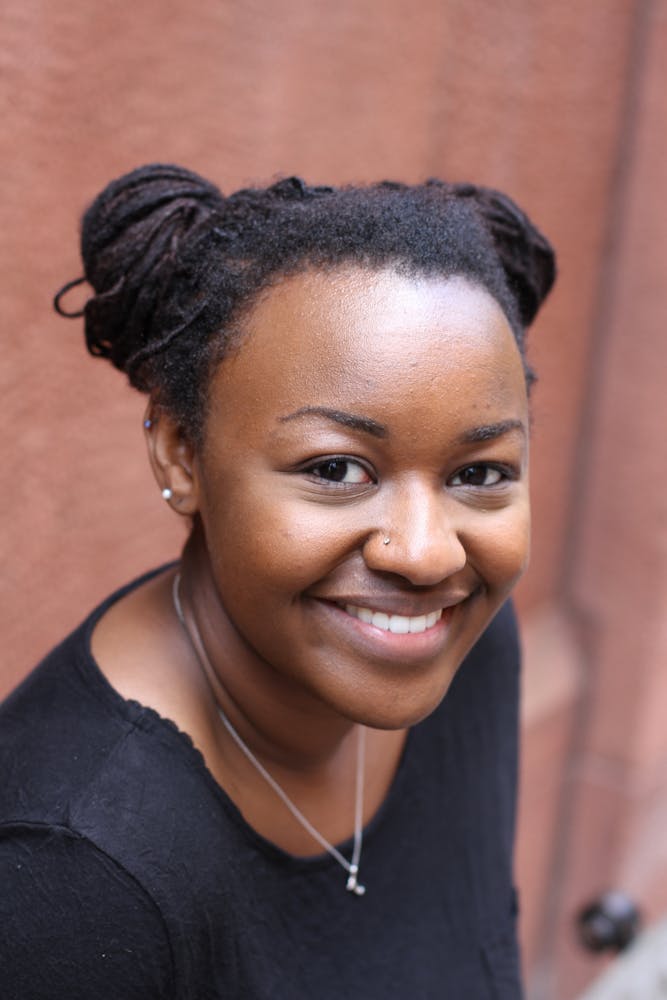 Imalia Gansop started working at Luke's in 2017 while a sophomore at NYU. She was on the opening team at Union Square, after seeing a Luke's hiring post on Craigslist (where else?) and has been part of the family ever since. After a study abroad stint in Berlin late last year, Imalia returned to Luke's, this time switching over to Midtown East, quickly adjusting to the pace of midtown lunch!
Imalia graduated from NYU this past May with a degree in Cinema Studies, and naturally spends her time away from Luke's watching movies on Netflix and HBO. We are thrilled to have Imalia on our team, and as our Director of Operations, Kristin put it, "she's an absolute staple for morale in the shack." And that's why she's our July LobStar. Photo credit: @vanumal
June 2019 LobStar:
Meet Chenda Chamreoun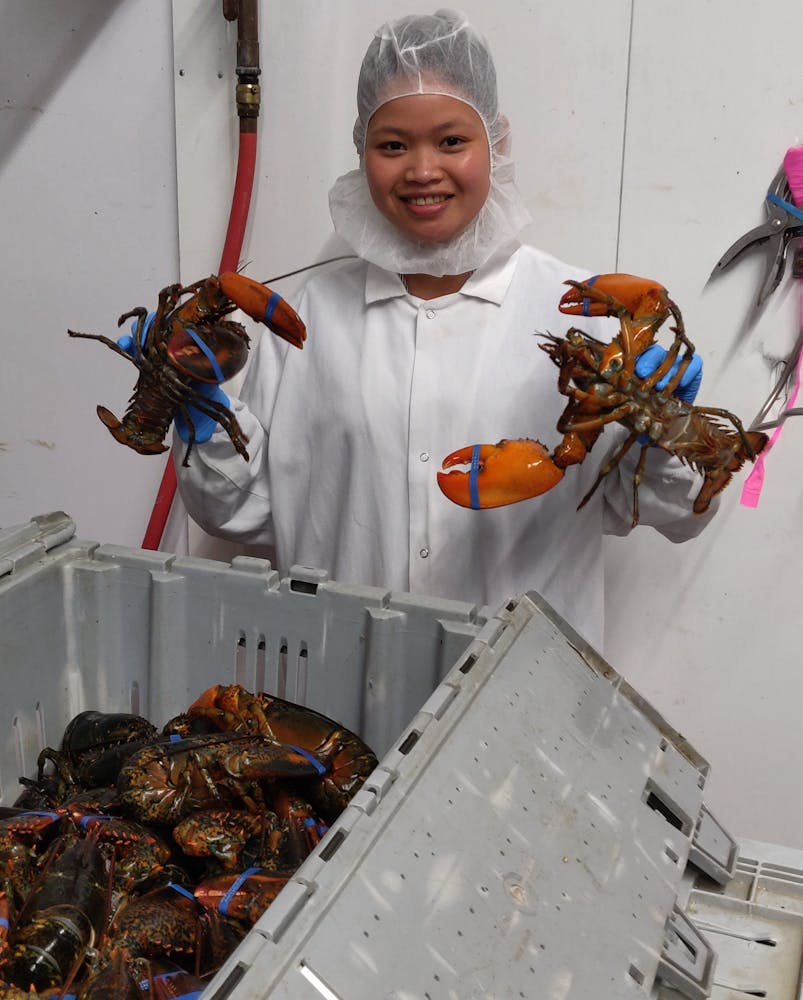 Chenda Chamreoun starts her day by waking up at 2:40 am to get to Luke's Seafood Company in Saco, ME by 4 am. She jumps right into action by doing a sanitation inspection to make sure all of the equipment in our production rooms is perfectly clean and sanitized before we begin processing thousands of pounds of lobster or crab that day. Not only does she ensure the cleanliness of our equipment, but she's a crucial member of our quality assurance team in Saco, making sure that after our lobster and crab is steamed and picked, that it's been thoroughly inspected for shells and cartilage before being packed and shipped to our partners and shacks around the country. Yes, she gets to eat a LOT of lobster(#workperks).
Chenda has been with Luke's since 2013 after moving to Maine from Cambodia, and we couldn't be more appreciative that she chose Luke's to work and grow at as such an important member of our team.
May 2019 LobStar:
Meet Briana Battle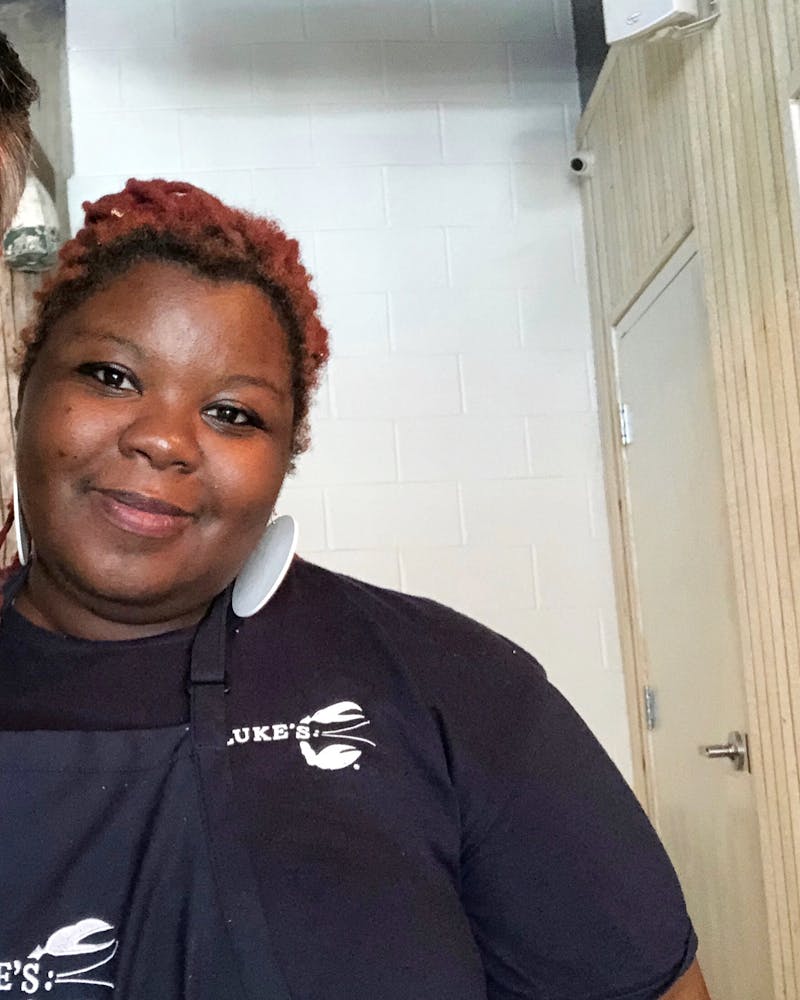 Briana started working at our Farragut location in DC on our second day open in 2018. Known throughout 17th St for her charisma and friendliness, she literally brings in lobster lovers off the street to try our rolls, and she's even been known to convince some Secret Service staffers that they need their Luke's fix during their coffee breaks next door. Briana's charm and knack for hospitality are what make her our May #LobStar and we couldn't be happier that she chose us as her home.
April 2019 LobStar:
Meet Carla Wright
Carla Wright was born and raised in San Francisco, and we're lucky enough to have had her on our team in SoMa since day 1. Since working at Luke's, Carla's been able to further develop her passion for food and restaurants, preferring to be on the line prepping our signature lobster rolls for the good people of SF.

A Food Network fanatic, when she's not at Luke's crushing rolls, you'll find her at home with her 11-year-old daughter in the kitchen (where else?). Replicating the food from her favorite shows like Diners, Drive-ins, and Dives, the duo likes to put their own spin on these chefs' signatures.

Carla hopes to continue working in restaurants throughout her career, and has just recently started thinking of attending culinary school to hone her skills. With our SoMa being one of our busiest shacks in the country, having a rock like Carla has made us settle right in on the West Coast. Make sure to say hello next time you grab a lobster roll in SF!
March 2019 LobStar:
Meet Denny Fiaalii
After fishing on the Bering Sea in Alaska for 10 years and meeting his wife Sabrina, Denny Fiaalii ended up moving to her home state of Maine almost four years ago, where they both work at our Seafood Company in Saco, Maine.

Denny started in our production facility (where we cook our seafood to perfection right off the dock to bring you those tasty rolls) and is an integral part of our crab and lobster production while also managing our lobster buying station at Portland Pier.

Running the Portland Pier station includes everything from offloading lobster from our fishermen's catch that day to supplying bait for a lobsterman's haul. Our buying station sits right beside our new restaurant in Portland (opening this summer ☀️) so make sure to say hey to Denny when you're getting your lobster fix on the pier!
February 2019 LobStar:
Meet Sam Garber
Born in NYC but raised in San Francisco, Sam Garber found himself back in New York when he attended the Stella Adler Studio of Acting at NYU. After graduating and looking for some part-time work, Sam thought back on his many visits to Luke's in the East Village and figured, if he liked eating there, he might like working there.

As part of the post-Hurricane Sandy team after our FiDi shack closed for several months in 2012, Sam's been crushing rolls at Luke's now for almost 6 years. Considered "the mayor" by his team, Sam's been known to recognize not just regular guests' orders, but their online orders as well.

While several hours of his week are spent making lobster rolls, his passion is acting, whether in a web series, public access talk shows, or on stage, in a 5 1/2 hour long play with breaks for dinner and dessert (the performance he will remember the most, he says). Be sure to give him a shout next time you're in our FiDi shack!
January 2019 LobStar:
Meet Tiffany Patterson
Tiffany Patterson started at Luke's over four years ago, and has made lobster rolls in most of our New York shacks since.

Currently at our Nomad shack on 25th Street, she spends half her time at Luke's and the other half running two e-commerce businesses, a mobile nail spa, and a vegan catering business. Somehow she still has the energy to bring a smile while crushing rolls at Luke's.

Originally from the Lower East Side, she now lives in Brooklyn, chasing after her two Jack Russells. Say hi to Tiffany next time you're in our Nomad shack!
December 2018 LobStar:
Meet Sierra Heinzman
We're really lucky that Sierra Heinzman was working the dessert station at her last job in Philly when she realized she was looking for something a bit more fast paced (and also, she didn't like dessert).
-
Enter her sister Brittah, who already worked at Luke's in Rittenhouse, which led to Sierra joining the team a couple of years ago. She's now a shiftleader and integral part of our Rittenhouse shack.
-
When she's not crushing rolls (and maybe having a Crab Grilled Cheese on her break ), you might find her perfecting her sushi skills with the techniques she picked up in her culinary school training. You're a LobStar, Sierra and we're lucky to have ya!


October 2018 LobStar:
Meet Davon Shelton
Davon Shelton was one of the original teammates who opened Luke's Lobster City Hall in Chicago in 2015. He joined us as a teammate while finishing up college at Chicago State, where he studied Communications and graced the stage in theater performances and the mic in radio broadcasts. Davon continues his passion for communications and radio today in his weekly Friday radio show on WCSU, where he talks about the intersection of sports and music.
Davon's the guy that you cannot talk to without breaking out in a smile, either from one of his Davon-isms ("Happy Friday Eve" if you meet him on a Thursday), or just because his own smile is so big you can't help imitating. Davon is more than just tag lines—his genuine conversation with guests and helpful hospitality has earned him 10x more mentions in Yelp and Google reviews than any other teammate—all of them glowing. His infectious personality is what qualified him to be one of two shift leaders to head to San Francisco and open our newest shack —and he shined from open to close.
Congratulations Davon on going above and beyond to earn the first ever monthly Luke's Teammate Spotlight!