Kelp: The Virtuous Vegetable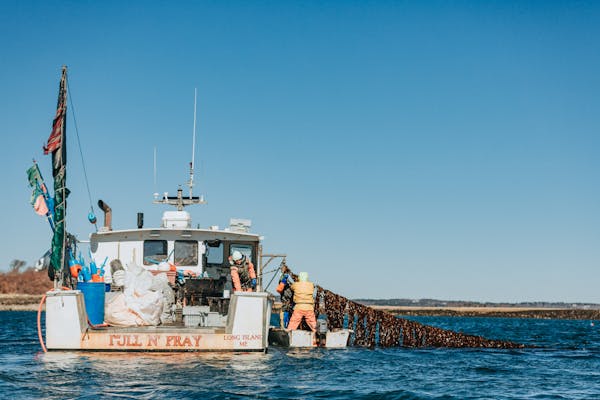 It's pretty rare these days to find something that has absolutely no downside. Meet kelp, the tasty, healthy, environmentally friendly, good for coastal economies, delicacy that you can put on….just about everything!
First, the basics. Atlantic Sea Farms kelp is grown on farms up and down the coast of Maine. As a starting place, it has Maine's clean cold waters going for it. Its growing season is November/December through early May, a time when lobster-fishing is generally a bit quieter than it is during the summer and fall. This makes kelp farming an excellent way for lobster-fishermen to diversify their income. Historically, Maine's fishermen have always fished multiple species, lobster, scallops, shrimp, groundfish, a species for every season. For all Maine fishermen, shrimp is no longer an option, groundfishing is limited geographically (and because of quota access) and the scallop fishery is a limited access fishery, meaning it's hard to get a license. Simply put, Maine fishermen do not have the income diversification they once had, which anyone will tell you is not a good place to be. Kelp, along with other aquaculture products, offers an alternative and a way to diversify. And due to its winter growing season, works nicely for commercial lobster-fishermen. Many lobster-fishermen also already have the gear set ups required to start a kelp farm so there is a low barrier to entry for them. And if they don't have what they need, Atlantic Sea Farms steps in to assist with technical support, lease support, and harvest training
The process for growing kelp is simple. It's seeded on horizontal lines that are strung about 12 feet beneath the surface. The kelp seed comes from Atlantic Sea Farms, where it's grown in tanks. Once the seed is on the line, it begins to grow, slowly at first through December, January and March, and then really, really fast come March, April. By harvest time, it can be 15 feet long! It's harvested, brought to shore and then blanched to keep its flavor and freshness.
In addition to the positive impact kelp farming can have for fishing families, it plays an integral role in the health of our local waters. With every harvest, each Atlantic Sea Farms partner kelp farm pulls a whopping 4,000-6,000 lbs of carbon from the ocean, all while requiring no arable land, no pesticides, fertilizers, or even irrigation to grow. There is some great research about the environmentally friendly attributes of kelp and kelp farming (more like a-- kicking attributes if we're being honest), but the bottom line is kelp helps water quality by counteracting acidification, and mitigating effects of excess carbon dioxide and nitrogen in our local waters.
Finally, kelp tastes really, really good and is really, really, good for you. It is a versatile and mild-tasting product that has a wide variety of culinary applications like sauces, dressings, and soups. Kelp is nutritionally dense. It's packed with essential vitamins and minerals like, potassium, iron, calcium, fiber, iodine, and protein. Atlantic Sea Farms' kelp is never dried and never dyed so you are getting a 100% natural, locally-sourced, kelp product. We're offering kelp with lobster meat which has all kinds of amazing culinary potential, but Atlantic Sea Farms (a women-run company, we should mention), has several other product offerings worth checking out, here.
Kelp is an all-around, good for the ocean, good for your body, good for the economy vegetable that you can feel really good about buying and enjoying with your family. In the words of our partners at Atlantic Sea Farms #kelptheearth