Main content starts here, tab to start navigating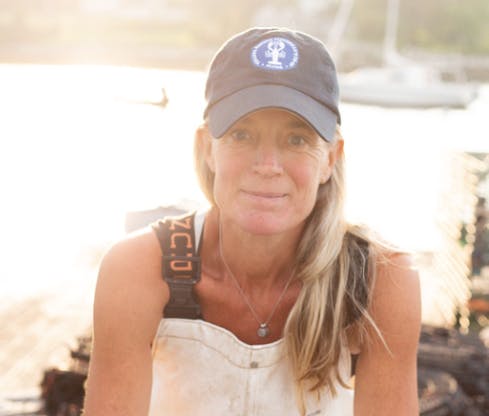 Merritt Carey
Community Relations Director
From her childhood, Merritt's life has always been connected to the sea, and to the small coastal village of Tenants Harbor where her family has summered for generations. At age 11, aboard her 13ft Boston Whaler, Merritt's first job was delivering cooked lobster, steamers and mussels to cruising boats in the harbor.
Merritt attended Brown University and then went back to sea –aboard the second all-female team to compete in the Whitbread Around the World Ocean Race and then as a member of the first all-female America's Cup team. Merritt settled in New Zealand where she attended law school. Returning home to Maine, Merritt practiced law for several years then turned consultant and found her passion for rural economic development and fisheries. In 2016, with Luke and local fishermen in Tenants Harbor, Merritt helped found the Tenants Harbor Fisherman's Co-op and then Maine's first aquaculture Co-op which grows farm-raised scallops. Today, Merritt serves as Luke's Director of Community Relations, a role she loves because it allows her to wear many different hats, including overseeing the Keeper Fund, Public Relations and running Luke's at Tenants Harbor in the summer.
Merritt lives in Yarmouth, Maine with her husband Chris where she stays busy with her three kiddos Liam, 17 Madeleine, 13 and Grace 9, and riding her two horses (Flurry & Oatmeal) whenever she can.